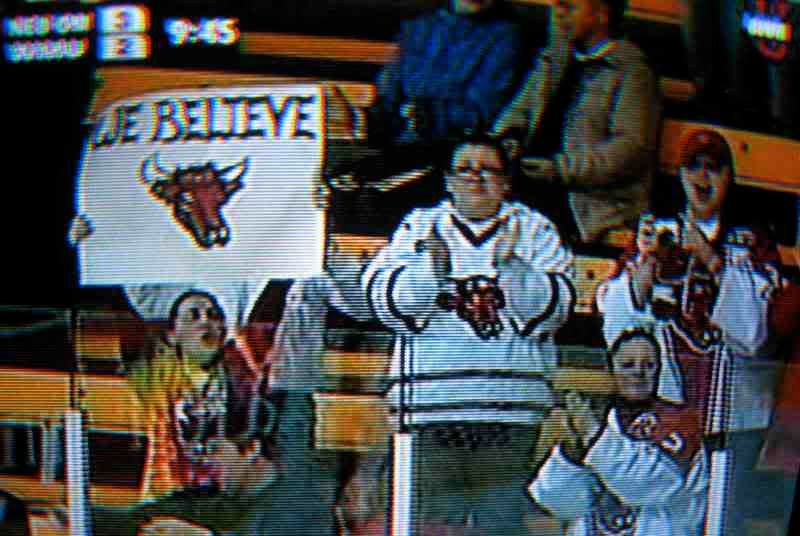 A screen-pature from the Sun. Jan. 6 game on ESPNU showed fans (front row), Brian Rowe and Sheryl Osentoski (clapping); (Back row) Bridget Brooks (holding sign), Chloe Lamay, and Brandi Teeters (holding camera). More than a dozen Omaha fans joined player parents in Kalamazoo, Mich. to cheer on the Mavericks. (Photo courtesy of Sean Weide)
The UNO Mavericks captured four hard-earned points in their sweep of Western Michigan on Jan. 4-5, but the victories came at a price. Defenseman Mike Philippi did not play on Saturday night after leaving the game with an unspecified lower-body injury on Saturday, and assistant captain Mark Bernier appears to have a separated shoulder that may end his sophomore season early. Bernier was crunched into the board in the Maverick defensive zone in the second period. The no-call on the play had head coach Mike Kemp giving referee Mark Shegos a piece of his mind when the period ended.
Mick Lawrence nearly notched a hat trick in the Sunday victory. The Mavs return home to face the Miami University (Ohio) Redhawks at the Qwest Center on Jan. 11-12. Friday's game will be aired on CSTV.